Historic Harlingen School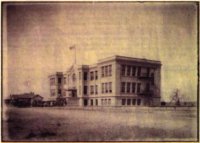 The Robert Runyon
Photograph Collection, 02998
The Center for American History
The University of Texas at Austin
THE MATZ BUILDING, a multi-tenant professional office building, began its years of service to the Lower Rio Grade Valley of Texas as one of the first two permanent school buildings in Harlingen. Originally constructed of bricks from the kilns of Harlingen founder Lon C. Hill, the building was completed in 1912 and was called the Main School until 1936 when it was officially designated as the Sam Houston School as it was known until the sale of the building in 1950.
At that time, then owner E.O. Matz undertook a two-year renovation that converted a building designed for use as a school into a modern office facility. Building on the strong history and sound construction of the original structure, the 3-story building was gutted from ground to roof and reconfigured with substantial structural improvements in the form of new 4-inch thick reinforced concrete floors on the first, second and third floors as well as extensive use of steel joists and beams for structural strengthening. The newly renovated facility was named THE MATZ BUILDING.
In 2002, the building was purchased by Harco Properties, Inc. Since that time, Harco Properties, Inc. has proven their commitment to maintaining The Matz Building as a quality work environment through multiple building and systems upgrades. Among others, these include all new windows and exterior doors in the main building, new HAVC systems, complete renovation of the plumbing system and restrooms, a new second stairway and fire escape route, Italian tile in the central hallways and video security cameras. Harco Properties follows a regular maintenance program of the interior and exterior building facility and of individual offices.
Today, THE MATZ BUILDING provides nearly 32 thousand square feet of office space on a 42 thousand square foot site located in the historic Jackson Street District of downtown Harlingen. In addition to a desirable location in the center of the Lower Rio Grande Valley, the facility offers its tenants state of the art communications capabilities, including multiple telephone lines, DSL and wireless communication, in a professional setting designed to meet tenants' business needs. The Matz Building offers a large variety of office sizes with flexible floor plans; onsite management and ample free parking in a secure and conveniently located facility. Competitively priced leases include utilities and 5- day-a-week janitorial service.
Over time, the outside appearance and interior structure of the building have changed dramatically. Due to the timely upgrades and modernization projects completed by the building's owners, THE MATZ BUILDING continues its tradition of service to the Lower Rio Grande Valley community by meeting the office needs of a wide variety of businesses and professional organizations.