Contact Us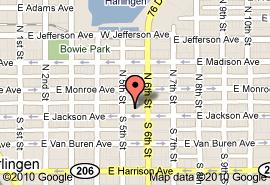 Contact Information:
Harco Properties, Inc.
513 East Jackson
Harlingen, TX 78550
Tel: (956) 364-0026
Fax: (956) 364-1026
angie@harcoproperties.com
Centrally located in downtown Harlingen, Texas,
THE MATZ BUILDING,
a professional multi-tenant office building provides the work space and access to technology today's successful businesses require. As professional business people, we understand the importance of maximizing every competitive edge.
Harco Hours:
Our leasing office is open:
Monday - Friday, 9am - 3pm
or by Appointment.
If you have any questions or comments about our available office space, services, or pricing, please contact us, we will be happy to assist you!